...And the third original at the "Pick of the Litter" show is
-
"
The Litter
"
Nice one - the best of the three in my opinion.
Just a few more days until the show opens in Denver at the
DC Gallery
.
-----
Forgot to post this months ago when the "Heroes and Monsters" book came out but Shag name-drops Ryohei Yanagihara -
Ryohei Yanagihara created the "Uncle" character for Suntory Whiskey advertisements.
This guy likes to drink.
Picture lifted from this
site
.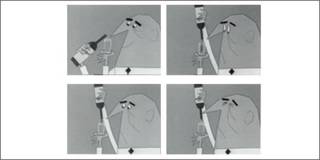 These three pictures taken from this
site
.
To see "Uncle" in action, watch the
intro
to the Suntory site and/or see a ad in Real or WMP format on
this page
(scroll down a bit and click the Real or WMP icon depending on your bandwidth and player preference).
There's a book available for sale and short bio (in Japanese)
here
- Altavista's Babelfish translation of the page is too screwed up to post here.
-----
Other influences that Mr Agle has mentioned over time in articles/interviews -
Gene Deitch
Jim Flora
Saul Bass
-----
Oh yes... The "Heroes and Monsters" book released by
Outre Gallery
is still available for sale (in softcover) for only twenty bucks (postage included). The book has an excellent interview with Shag and also has Shag's bon mots concerning each canvas from the H/M shows throughout the book.
Egads, did I just use the word "bon mot"? On that note... What am I doing using the word "egads"?
(Thanks go out to "The Most Wonderful Baker of Electric Toast" for the Merriam-Webster Online link - I wholeheartedly recommend you select a more current [meaning "hip"] pseudonym if you want to take part in further proceedings.)