I've been seeing those Shag beach towels on eBay going for 25 to 30 bucks... Let's cut out the middle man!
Thanks to my trusty assistant
Google
, I found that the towels are an "exclusive" from
Bed Bath & Beyond
.
There are three designs for sale on-line -
Dance Beat
,
Oola Boola
,
Hottie Cat
- each going for $14.99.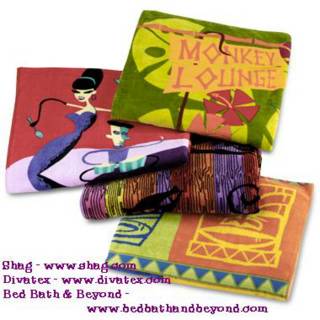 Odd how that BB&B has four different styles pictured
here
, but only three styles for sale.
UPDATE
- E-Mail fom Bed Bath & Beyond:
We regret to inform you, we do not carry the Monkey Lounge towel in the
Shag Style Beach Towels.
Shag licensed the designs to
Divatex
(site coming soon) late last summer/early fall.
Home Textiles Today
has two different press releases from March 2004 about upcoming Divatex/Shag releases - shorter one from
March 19th
and the one from
March 22nd
is a bit longer.
Divatex's beach towel collection will begin shipping in early April, rolling out first in the specialty store channel. Divatex is launching with four designs, all 34-by-64 inches. Two skus are fiber reactive prints and two are double jac velours. Retails will range from $15 to $20, Zamir said.

In bedding, Divatex will debut six patterns, "with more to come," Zamir added. Divatex will offer printed sheets in a variety of thread counts and constructions, including jersey knit and flannel. Shag will also be offered on printed top-of-bed. Product will be packaged as complete ensembles, sets, mini-sets or open stock, according to the retailer's preference, Zamir said.

"The appeal is young, urban. It attracts fashion aficionados. But it's also got strong looks for back to school," he said.
Anyway,
LDB Interior Textiles
has a
photo
tucked into this lengthy article from March 2004 of a "Shag Tiki Bars sham."
I'm a guy - what's a sham?
Here's a trimmed pic:
Just asked the wife what a "sham" is - it appears to be a fancy word for "pillow case that would be really uncomfortable to sleep on." Great...
-----
Tyler Durden: Do you know what a "duvet" is?
Narrator: It's a comforter...
Tyler Durden: It's a blanket. Just a blanket.