Jason, from
StarLite Room
, sent a picture of Shag's piece for the "
7 Year Itch
" show -
Amazingly enough, they still have a few
Cocktail Cabinets
left too! This was the best Shag-related release since
House Industries
' "
Object d'Art
."
We're looking forward to moving back to the US in November so we can hang ours up (thin walls here).
-----
Oh, to be Southern Californian and Mod!
You get
Mondo Lounge
on Saturday, October 16th, but before that you get "ModCom 20/20/20 - 20 Years, 20 Sites, 20 Bucks" on September 18th and19th!
Join the Modern Committee on a 20th anniversary tour celebrating the 'greatest hits' of L.A. Modern architecture preserved in the past two decades. This two-day, self-driven tour spans L.A. County from the Pacific Palisades to Downey, highlighting 20 sites (10 on each day). It includes a booksigning with legendary architectural photographer Julius Shulman and first dibs on a special, limited-edition print by Shag.
Mr Shulman is the photographer behind "
Modernism Rediscovered
," a book that makes me want to hit my head against the wall in envy! Definately a man whose ring I'd kiss...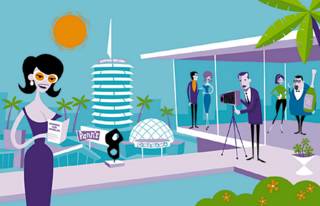 "
L.A. Modern
" - 13 color serigraph, 20" x 28", edition size = 200 prints.
Any kind souls who attend and feel the need to get a copy of the serigraph for me, I'd greatly appreciate it! I'll pay you back (honest)!
Any kind souls who attend and feel the need to kiss Mr Shulman's rind for me, I'd greatly appreciate that too!! I have no idea how I could pay anyone back for that!!
-----
The images are up. (
Bottomless Cocktail
Redux anyone?)
Paul Smith
's site is a dense, mostly un-informative site, so here's a link to a much better
map
care of Maporama.com.
--
And what is the show print? It's #6 from the ShagMart's "choose a serigraph" poll -
"
She Dreams of the Alps
" - 15 color serigraph, 53cm x 96cm (21" x 38"), edition size = 250
The full top ten:
-----
No images yet.
Apart Gallery doesn't have a web-site.
A
map
from MultiMap.com
...and
another
from Streetmap.co.uk
-----
Hey, it's September. The
Shooting Gallery
's "Tiki Art Now" Group Show will be opening on the 16th (lasts until October 9th).
Press Release
- pdf document
Preorder the
book
for a 10% discount before release date of September 15, 2004.
--
Wow, I thought
this
was released by now...
-----
In October,
Last Gasp
will release "Pop Surrealism- The Rise Of Underground Art"
Suggested Price - $40.00 - but I've seen it for a lot
less
156 Pages
ISBN - 0867196181
I've seen two different covers with two different Shag images in the collage. One has a bit from "
The Fashionable Terrorist
," the other has a bit from "
The Masquerade
"
--
What else is in October?
"Ghost Town" Group Show at
Tin Man Alley
in
Philadelphia, PA
, from October 2nd to November 14th. Opening reception is Saturday, October 2nd, 6pm-10pm.
--
"Qeedrophonic" Group Show comes to the
Laforet Museum
in Harajuku, Tokyo, Japan from October 7th to 17th.
Get off the train at the Harajuku station. Cross the street. Turn left at Snoopyland. For the rest of the way, refer to the
Laforet
or
Superfuture
map(s).
--
"Monsters A Go Go" Group Show at
Roq La Rue Gallery
, Seattle, WA, from October 15th to November 7th.
October 15th 2004- Monsters A Go Go - group Spook Show Extravaganza devoted to kooky, campy monsters and the more amusing aspects of the macabre. Artists include Shag, Camille Rose Garcia, Lisa Petrucci, Liz McGrath, Andrew Brandou, Miles Thompson, XNO, Joshua Petker, Pooch, Joe Vollan, Luke Chueh, Joe Vaux, The Pizz, Moira Hahn, Ryan Bubnis, Mike Mass,Jim Blanchard and many more! We'll be having a big opening for this one so stay tuned.
--
October 16th gives the SoCal mafia
Mondo Lounge
!
--
...and don't forget October 31st! Yes, I too proudly celebrate the birthday of
Vanilla Ice!
-----
Hey
Tiki Central Grand Members
who joined before July 20th - the clock is ticking to purchase the "
Four Modern Tiki Legends
" during the Initial Offering (August 20th to September 3rd).
-----
Maybe I'm just being a Negative Ned about the "Shag With A Twist: A Murder Mystery told in Music and Dance" that was mentioned on Shag's News
page
.
I just can't stop thinking about bad community theatre a la "
Waiting for Guffman
" or "
A Streetcar Named Marge
"...